A message from Jeff
I love doing all types of off roading. This includes everything from blasting through the desert at high speeds while hitting the jumps and whoops, to crawling rocks at low speeds. When I'm out on a run with my group of off roading buddies, we're always just a push-to-talk (PTT) button-press away from communicating with each other.
Some of us have handheld radios, while others have both hardwired mobile radios and handheld radios (for spare/backup use).
The dilemma that I used to always run into, was having to choose between placing the handheld radio in a safe and secure location vs keeping that radio close and easily accessible to me. No matter what I did, I was only ever able to choose one of the two options.
This dilemma was what prompted me to create the CommSlot. I needed something simple that I could not only adapt easily into my own truck, but also something that all my off road buddies could use.
Since I was already using RAM Mounts in my truck, I knew that I needed something that could work with the AMPS mounting hole pattern that the RAM Mounts used.
At first, I handmade a rudimentary prototype out of wood and wood glue. I then tested this prototype with the Baofeng and Kenwood handheld radios I had as a proof of concept to myself. Once I was satisfied with the the results, I went ahead and drew up a 3D model for this using Sketchup 3D design software.
I used a 3D printer to print functional prototype parts in PLA material to test in all our vehicles. The PLA wasn't very durable, as it would simply melt in the high temperatures of a vehicle parked under the sun.
But, that did not matter. These functional parts served to reinforce the proof of concept for everyone involved.
We collectively put the product through thousands of miles worth of off road runs.
After going through several iterations, I finally arrived at two versions of the CommSlot: A universal "Sticky Edition," which used 3M VHB tape to stick to surfaces, and an "AMPS / RAM Mount Edition," to mate with RAM Mounts or other products that also used the AMPS mounting hole pattern.
It has now been about one year since I made the first handmade wooden prototype. We now have production parts on hand for both versions, made in durable, rust-proof corrosion-resistant zinc-plated zinc alloy material. Whew, that was a long adjective, wasn't it?
Whether you are using this in an off-roading application, or whether you are using it in a different application (ig airplane, forklift, racetrack, etc.), I hope that you will love using the CommSlot as much as I do.
Let's share the the CommSlot experience with all our friends and family!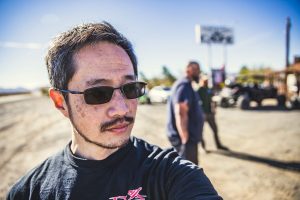 – Jeff @ Slick Auto / CommSlot, November 1, 2021